Nightfall Praetorian
Edit
Nightfall Praetorian is a tribal pack whose wolves are similar to werewolves & can stand on two feet, uses weapons such as bows, spears, and knives, and have human-like behaviors. We live off of the land and inhabit Thule island.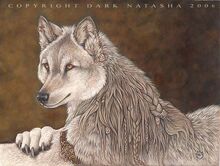 For Our Members:
Edit
LEGENDARY ITEMS PACK: http://www.mediafire.com/download/kf3bmqsnhucfd6i/Legendary+Items+v2.1.zip
AUG 22 MASS MARKINGS: http://www.mediafire.com/download/g1sgdb8j2z6egpc/22+Aug+-+Markings.zip
CURRENT MAP: http://www.mediafire.com/download/lzvy6nkf45uluzg/ObolForest.zip
Thule Island (map download)
The beautiful artwork used on this wikia rightfully belongs to Dark Natasha, we do not own the artwork.
Ad blocker interference detected!
Wikia is a free-to-use site that makes money from advertising. We have a modified experience for viewers using ad blockers

Wikia is not accessible if you've made further modifications. Remove the custom ad blocker rule(s) and the page will load as expected.